Changing My Password
Your password is your key to accessing the "non-public", Resident Only, sections of the Sun City Portal. This password is unique to you and should not be shared with anyone. From time to time it is a good idea to change your password as a security precaution.
Follow these simple steps to change your password:
Navigate to the Sun City Web Portal (www.sctexas.org)
There you will see the Public Facing Sun City Website. Simply locate the "RESIDENT LOGIN" button in the top righthand corner and click on it.
You will see a small "Member Login" box appear in the middle of your screen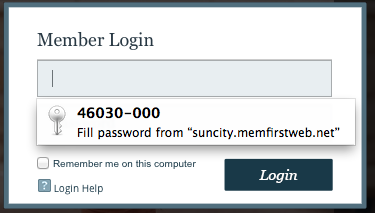 Fill in your Member Number (e.g. 46030-000) in the top box and your password in the bottom box (NOTE: initially your password will be your birthdate in the format mmddyy - do not forget to key in leading zeros e.g. 091247 = September 12, 1947). If you have previously changed your password it will be whatever you changed it to at that time.
Once you have successfully logged in you will see a "Welcome Back, your name" appear within the top image on your screen. This confirms that you have successfully logged in.

Click on the "My Profile" text (link) you should see just under your "Welcome Back" message.
Click on the "EDIT MY PREFERENCES" button.

You will see a box entitled "Change Resident Password" appear.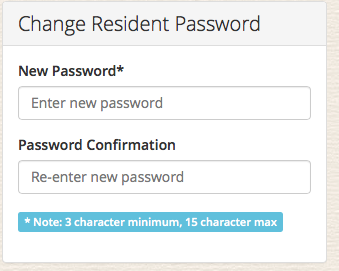 Simply enter your new password in the "New Password" AND the "Password Confirmation" boxes (NOTE: 3 character minimum and 15 character maximum for a password).
​Scroll to the bottom of the screen and click on the "SAVE DATA" button.

​​