Sun City Texas is home to three of the best public golf courses in Central Texas: White Wing, Cowan Creek and our premier course Legacy Hills. With plenty of opportunities for weekend and evening play, Sun City Texas' public golf courses are the perfect place to have your next golf adventure or host your next tournament.
Learn more about each course online at www.suncitytexasgolfclubs.com. For more information or to book a golf outing or tournament, contact the Tournament Services Director at 512-948-7583.
Cowan Creek | 512-948-7590

1433 Cool Spring Way, Georgetown


Rolling open hill country provided Gary Stephenson a perfect canvas in designing one of Sun City's finest championship golf courses.

Legacy Hills | 512-948-7560

301 Del Webb Blvd, Georgetown

Legacy Hills Golf Club might be the best all-around golf course in Central Texas, if not the entire state," wrote Del Lemon, writer for the Austin American Statesman.

White Wing | 512-948-7570

150 Dove Hollow, Georgetown

White Wing Golf Club, the second of four planned courses at Sun City Texas, is an 18-hole, par 72 course and is open to the public.

White Wing Golf Course USGA Report

We had the USGA do an assessment of the White Wing Golf Course and report their findings. We will continue to have assessments done to assist in maintaining our golf courses.

2019 USGA Rules Changes
Contact Us
Open Every Day – Except Christmas Day
Golf Course 7 a.m. - Dusk
Golf Shop 7 a.m. - 6 p.m.
Golfer Guide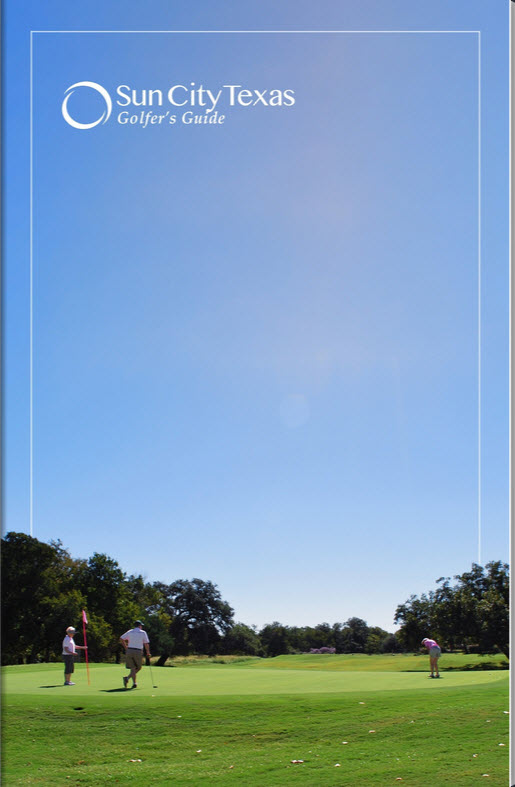 Golf Course Enhancements
Please click below for background on the current golf course enhancement project.