Changing My Email Address
It is critical that your email address is stored correctly in the new Sun City Portal. This single Email address will be used by pretty much everything you are a part of inside Sun City (e.g. CA, NRO, Clubs You Belong To, Your Neighborhood, etc.). If your Email address is incorrect you most likely will not receive Emails from any organization within Sun City.
It is a very simple process to change your email address:
Navigate to the Sun City Web Portal (www.sctexas.org)
There you will see the Public Facing Sun City Website. Simply locate the "RESIDENT LOGIN" button in the top righthand corner and click on it.
You will see a small "Member Login" box appear in the middle of your screen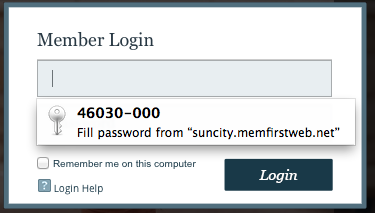 Fill in your Member Number (e.g. 46030-000) in the top box and your password in the bottom box (NOTE: your password will be your birthdate in the format mmddyy - do not forget to key in leading zeros e.g. 091247 = September 12, 1947).
Once you have successfully logged in you will see a "Welcome Back, your name" appear within the top image on your screen. This confirms that you have successfully logged in.

Click on the "My Profile" text (link) you should see just under your "Welcome Back" message.
You will then see a new screen appear that is entitled "Resident Profile". Right under your name you will see the Email address that is currently in use for you.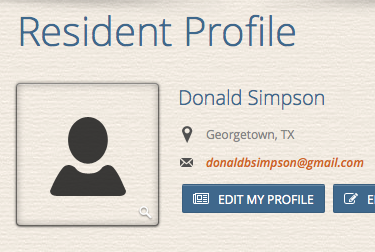 If this Email address is correct there is nothing more for you to do. If this Email Address is incorrect then simply click on the "EDIT MY PROFILE" button (seen in prior step).
A new screen will appear and you simply scroll down until you see the "Email Addresses:" box and fill in the your correct Email Address.

To complete this change simply scroll down to the bottom of the screen and click on the "Save Data" button.

Your Email address has now been changed.