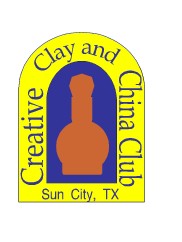 Telephone: (512) 948-7664
Hours
M W F Sat 9 a.m. to 4 p.m.
T Th 9 a.m. to 8 p.m.
Sun 1 to 4 p.m.
The Creative Clay and China Club operates two studios in the Craft Center, one for Pottery and Ceramics and the other for Fine China. The club was organized as a program where residents could come together and share their love of clay, ceramics and porcelain, and by sharing, they could increase their knowledge and creativity.
The Club was founded in 1997 and now has over 200 members. The studio has five kilns, a large selection of ceramic molds, seven wheels, slab rollers, extruders, and studio tools for the use of members. The club also carries mid and low fire clays, a selection of glazes and under glazes, brushes, and other related items for sale at cost to the club members.
Craft Fair

The Club participates each November in the Sun City's Craft Fair. At that time, visitors can purchase members' creations which are presented for sale at reasonable prices in the studio.