2019 Productions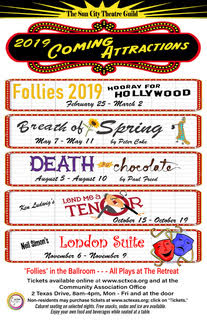 "Follies" in the Ballroom - - - All Plays at The Retreat
Follies 2019

"Hooray for Hollywood" will be presented February 25 - March 2.

2019 Play Season

Your Board is very pleased to announce the

2019 Play Season.

We are very excited about the plays chosen, and believe they are the perfect way to inaugurate our new space at The Retreat:

Breath of Spring - Director, Darrel Meinke

May 7th to11th.

Death By Chocolate - Director, Morgan Fogleman

August 6th to 10th.

Lend Me A Tenor - Director, Rosemary Guthridge

October 15th to 19th.

London Suite - Directors Kathy Allen, Judy Dargis, Suzanne Alford

November 6th to 9th.