Cajun Group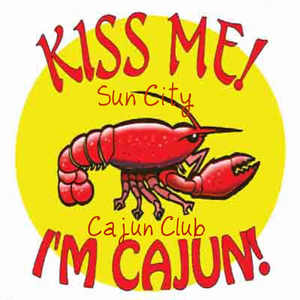 Welcome to the Sun City
"Kiss Me I'm Cajun Club"
---
We are an informal group of Sun City residents who enjoy having fun. You need not be born Cajun...just enjoy the unique Cajun
Joie de Vivre (Joy of Life)
Our goal is to promote and preserve the culture, lifestyle, food, music, and other aspects of the Acadian Heritage, and
HAVE FUN DOING IT
No rules, No dues, Just fun!!!
---
We have several events a year. We bring in Cajun, Zydeco, Dixieland, and Country Western bands ... plus we have other functions including:

Fais Do Dos
Mardi Gras Celebration
Cajun Saturday Night at Putters Patio
and any other fun things that we can come up with....
We are not a dance club although dancing is part of our fun ... but you don't have to dance to come out and join us.

We are an Interest Group as opposed to a Chartered Club ... therefore we have no dues... we simply charge an admission to our events to cover our expenses ... we're a "Pay as you Play Club". Our membership is open to all Sun City residents.

We send out a monthly email newsletter called "The Cajun Times". It contains all the news of our club, plus we like to add the other fun events sponsored by some of the other Sun City Clubs. We would love to have you on our distribution list ... simply visit our FaceBook page at the link below or email us at [email protected].
Click HERE to leave the Sun City Texas Community Association's website and visit the Cajun Club FaceBook page!!!