Self Defense Club
Community Association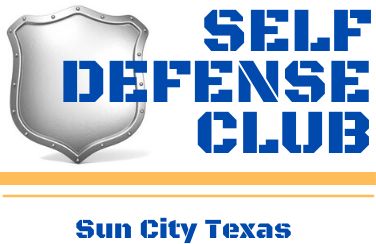 Make Your Personal Safety Your First Priority!
The Self Defense Club can help you make that happen.


Here are some of the great things you'll receive, learn and experience with your Self Defense Club membership for 2021 ... just $5.00!

an upgraded monthly newsletter

that comes with your membership. It provides valuable personal protection tips that you can use everyday, as well as tips on (for example) telephone and internet scams, how to create better home security and what questions you should be asking

service providers, vendors and other people who ask for money;
a revised personal protection

women

-

only

and

co-ed

classes

will train you

to take control of your personal safety as you run errands and enjoy activities outside Sun City

;
a new Advanced Class

for residents with previous martial arts training, self-defense training in the military or law enforcement, or other previous self-defense experience. Our experienced

instructors will help you hone your current skills and learn new ones; an
adding

a Self & Home Security SIG

to share experiences, obtain resources and to learn how to effectively deal with concerns related to home and property security, scams, harassment and other issues/actions that make you feel uncomfortable. Special speakers will be invited to the monthly meetings.


Check us out in the December 2020 Sun Rays