Raspberry Pi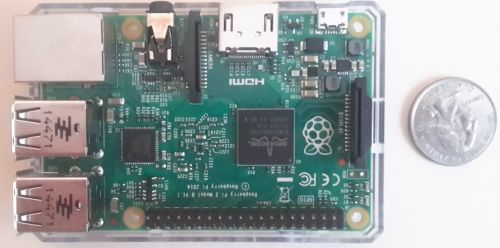 The Raspberry Pi is credit card sized fully functioning computer that commonly runs the Debian Linux operating system. The latest $45 model 2 is shown above. The Raspberry Pis were developed in the UK by the Raspberry Pi Foundation. The model 2 has a powerful quad-code 900 Million hertz (900 MHz) processor, 1 Billion Byte (1 GB) of memory, built-in provision for a micro-SD card for storage, multiple connections for keyboard, mouse, camera, and 40 pins for connecting to hobby equipment. Although it could easily be used in place of a desktop computer it is normally used without a keyboard or mouse as a:
web or file server
home automation
media server (turn a "dumb" TV into a smart TV)
There are significant resources available on the Internet in both written and video formats (do a search on YouTube) on setting up and using this small inexpensive computer. There is a world wide community of experimenters, including some here in Sun City, making use of this computer in their home automation projects. Suggest that you start with the Raspian build that you can download from the Raspberry Pi Foundation site below and once installed generally use the Synaptics package manager to install other components.
If you are considering buying a Raspberry Pi, look for several things:
Get the latest model - currently model 2 B
You will likely want a wireless connector (the Pi comes with builtin wired Ethernet connector) - commonly used is the Edimax EW-7811Un
You will likely want a plastic case to protect the small computer
You will need a USB charger and cable (you may be able to reuse existing non-Apple cables and any USB charger)
For more information: